Product Description
| | |
| --- | --- |
| Product Name | Metal bellow coupling |
| Material | Aluminum  |
| Type | BC16-82 |
| Structure  | 1 shaft ( 1 / 1a / 1b ) with bore |
| Bore size  | 4-42 mm |
| Weight  | About 8-1200G g / pcs |
| packing | plastic bag +paper box +wooden box +wooden pallet |
1. Engineering: machine tools, foundry equipments, conveyors, compressors, painting systems, etc.
2. Pharmaceuticals& Food Processing: pulp mill blowers, conveyor in warehouse, agitators, grain, boiler, bakery machine, labeling machine, robots, etc.
3. Agriculture Industries: cultivator, rice winnower tractor, harvester, rice planter, farm equipment, etc.
4. Texitile Mills: looms, spinning, wrappers, high-speed auto looms, processing machine, twister, carding machine, ruler calendar machine, high speed winder, etc.
5. Printing Machinery: newspaper press, rotary machine, screen printer machine, linotype machine offset printer, etc.
6. Paper Industries: chipper roll grinder, cut off saw, edgers, flotation cell and chips saws, etc.
7. Building Construction Machinery: buffers, elevator floor polisher mixing machine, vibrator, hoists, crusher, etc.
8. Office Equipments: typewriter, plotters, camera, money drive, money sorting machine, data storage equipment, etc.
9. Glass and Plastic Industries: conveyor, carton sealers, grinders, creeper paper manufacturing machine, lintec backing, etc.
10. Home Appliances: vacuum cleaner, laundry machine, icecream machine, sewing machine, kitchen equipments, etc.
Contact: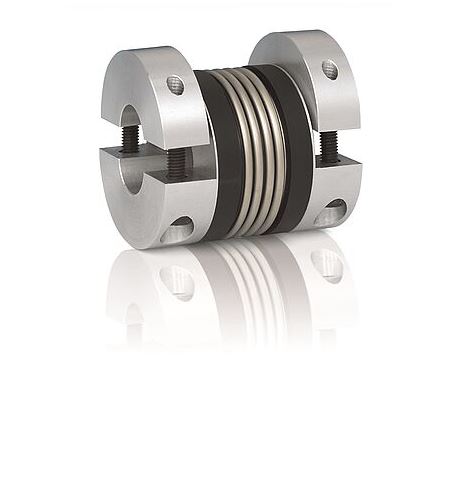 What are the Maintenance Requirements for Bellows Couplings to Ensure Reliable Performance?
Proper maintenance of bellows couplings is essential to ensure their reliable performance and extend their service life. Here are some maintenance requirements and practices for bellows couplings:
Regular Inspection: Perform routine inspections of the bellows coupling to check for any signs of wear, damage, or misalignment. Look for cracks, tears, or deformation in the bellows element, as these issues can lead to coupling failure.
Lubrication: In most cases, bellows couplings do not require lubrication. However, some specific applications or coupling designs may benefit from periodic lubrication of the shafts. Always follow the manufacturer's guidelines regarding lubrication, as using the wrong type of lubricant can damage the coupling.
Keep the Coupling Clean: Ensure that the bellows coupling and its surroundings are clean and free from debris. Dirt, dust, and foreign particles can accelerate wear and reduce the coupling's performance.
Avoid Overloading: Do not exceed the maximum torque and speed limits specified by the manufacturer. Overloading the coupling can cause premature failure and compromise the system's performance.
Address Misalignment and Shaft Movement: If misalignment or shaft movement occurs during operation, identify and correct the root cause promptly. Excessive misalignment or axial motion can put extra stress on the bellows and lead to premature failure.
Inspect Fasteners: Check and tighten the fasteners, such as set screws or clamping screws, that secure the coupling to the shafts. Loose fasteners can cause the coupling to slip or shift, affecting its performance.
Replace Damaged Couplings: If any signs of damage or wear are detected during inspection, replace the bellows coupling with a new one. Continuing to use a damaged coupling can result in catastrophic failure and potential damage to connected machinery.
Follow Manufacturer's Guidelines: Always follow the maintenance instructions provided by the coupling manufacturer. They may have specific recommendations for inspection intervals, cleaning methods, and other maintenance practices.
By following these maintenance practices, you can ensure that your bellows couplings remain in good condition and deliver reliable performance throughout their operational life. Regular inspections and proactive maintenance help identify potential issues early, allowing you to take corrective actions before they escalate into more significant problems.
How do bellows couplings ensure torque transmission and minimize backlash in precision systems?
Bellows couplings are used in precision systems to transmit torque between two shafts while minimizing backlash, which is crucial for maintaining accurate positioning and reducing vibrations. Here's how they achieve these functions:
Torsional Rigidity: Bellows couplings are designed with a series of flexible metal convolutions (bellows) that allow angular misalignment between the shafts. The metal bellows provide high torsional rigidity, ensuring efficient torque transmission from one shaft to the other with minimal power loss.
Backlash Elimination: Backlash is the play or movement that occurs when reversing the direction of rotation in a mechanical system. Bellows couplings are ideal for precision applications because they have virtually zero backlash. The absence of backlash helps maintain accurate positioning and prevents undesired movements in precision machinery.
Compensation for Misalignment: In precision systems, shaft misalignments can occur due to manufacturing tolerances, thermal expansion, or other factors. Bellows couplings can accommodate angular, axial, and parallel misalignments, ensuring smooth operation and preventing excessive stress on the shafts and connected components.
Vibration Damping: The flexible nature of bellows couplings also provides some level of vibration damping. This feature helps reduce vibrations and shocks in the system, which is especially important in sensitive precision equipment to maintain stability and accuracy.
Compact Design: Bellows couplings are compact and lightweight compared to some other coupling types, making them suitable for applications where space and weight restrictions are important considerations.
In summary, bellows couplings play a crucial role in precision systems by ensuring efficient torque transmission, minimizing backlash, compensating for misalignments, dampening vibrations, and providing a compact design. These features make them an excellent choice for high-precision machinery and applications where accuracy and reliability are paramount.
What is a Bellows Coupling, and How is it Used in Mechanical Power Transmission?
A bellows coupling is a type of flexible coupling used in mechanical power transmission systems to connect two shafts while allowing for angular misalignment, axial motion, and torsional flexibility. It consists of a thin-walled metallic bellows element that resembles an accordion or bellows, which gives the coupling its name. The bellows is typically made of stainless steel, providing it with the necessary flexibility and durability for various applications.
When used in mechanical power transmission, a bellows coupling accommodates misalignments between the connected shafts. These misalignments can be in the form of angular misalignment, where the shafts are not perfectly aligned in a straight line, or axial misalignment, where there is some linear movement along the shaft axis. Additionally, the bellows element provides torsional flexibility, allowing the coupling to transmit torque while compensating for slight shaft misalignments.
The bellows coupling works by absorbing and redistributing the misalignment forces through the flexing of the bellows element. As the shafts rotate, any misalignment causes the bellows to flex, allowing the coupling to maintain a continuous transmission of torque while reducing stress on the connected shafts. This flexibility also helps dampen vibrations and shock loads, protecting the connected components from excessive wear and fatigue.
One of the significant advantages of using a bellows coupling is its high torsional stiffness. The bellows element provides excellent torsional rigidity, making it suitable for applications where precise motion control and minimal torsional backlash are essential.
Bellows couplings find applications in various industries, including robotics, aerospace, medical devices, semiconductor manufacturing, and precision machinery. They are commonly used in applications where accurate positioning, high torque transmission, and compensating for misalignments are critical requirements.
In summary, a bellows coupling is a flexible and robust coupling solution that allows for angular misalignment, axial motion, and torsional flexibility in mechanical power transmission systems. Its ability to accommodate misalignments while maintaining high torsional stiffness makes it a preferred choice in precision positioning and motion control applications.



editor by CX 2023-11-21